Amazing Architectural Design In Film
— 01 February 2022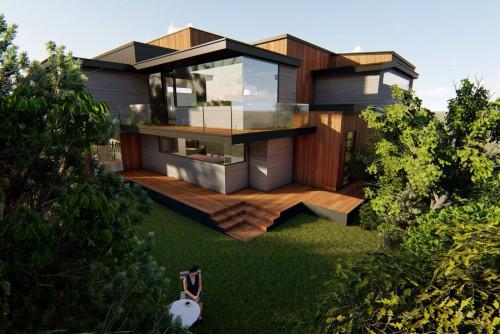 The dialogue. The action. The actors. These are just a few of the things you can expect people to say is their favourite part of a film. But one of the most underrated parts of films is the set design. Without the set, it would just be actors talking to each other in a blank room for a couple of hours, devoid of any background to enhance the scene.
A lot of films are shot on location with existing buildings, but giving an architect free rein to create a space from scratch can really enhance a film. So here are some examples of amazing architectural design as seen in the film industry.
The Grand Budapest Hotel
We Anderson films always look superb. His style of filming and use of colour always immerse a viewer into the world he creates. And one of the most stunning examples of this is the titular Grand Budapest Hotel from The Grand Budapest Hotel.
What it is most known for is the exterior shot of the hotel, a sprawling building front of windows, towers and a large sign, in twin shades of pastel pink. It is reminiscent of Karlovy Vary in the Czech Republic, with the European architecture and vivid shades a clear inspiration.
Cleopatra
When it was made in the 1960s, Cleopatra quickly became the most expensive film ever made up to that point and still ranks highly on this list adjusted for inflation. However, the money spent is clearly seen in the architectural design.
Egypt is recreated in all its opulence, with large statues of mythological creatures, carved golden walls and massive temples. The Roman forum was recreated using the massive budget of the film, transporting audiences to ancient times with its bold design.
Parasite
From ancient Egypt to modern-day Korea, Parasite truly represented how important architectural design is to a movie. The sets are used to showcase the class discrimination in the film, with a lot of the action taking place at a minimalist but lavish residence, filled with the architectural features one would expect and dream of in a modern home.
This is contrasted with the Kim family's apartment, a tiny space that the family reside in. However, you can clearly see this space is much homier, filled with possessions and life that is missing from the modern, minimalist style of the Park family residence.
Architectural Design
If you're looking for award-winning RIBA Chartered architectural engineering that will have your project looking like something straight out of the movies, get in touch today with Spatial Design Architects. We specialise in creating bespoke contemporary family homes, apartments, commercial developments and mixed-use projects, bringing your vision to life through our expert service.
Get in touch today on 01277 222510 to talk with one of our friendly and expert team about your project, or visit our website now to view a portfolio of our existing work.