From Hybrid Architecture to Modern Designs: How do Architects Get Inspired?
— 07 January 2022 Posted in: Topics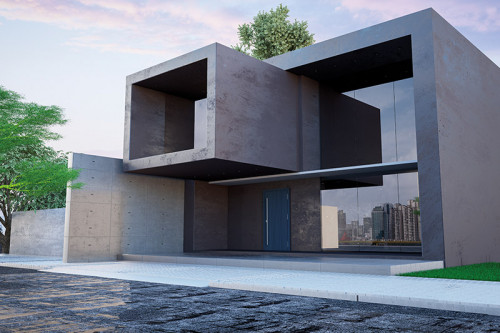 Architecture is a centuries-old art form that can satisfy a wide range of personal design preferences. From catering to clients' unique quirks and creating eye-catching, futuristic structures to paying homage to styles of centuries gone by, this discipline requires an endless supply of knowledge and inspiration.
You might be wondering where on earth architects get the inspiration to come up with such creative yet functional designs on a regular basis. This blog from Spatial Design Architects takes a look at some of the main sources of inspiration for professional architects.
Historical and social factors
The social and historical background of an area often plays a big part in an architect's inspiration process. Architecture can reveal a lot about history, and vice versa. If you were to remove everything from a town or city apart from its buildings, you'd still be able to infer something about its social and cultural background. This sums up why history plays an important role in an architect's process and why historical features should not be overlooked even in modern house design.
Authenticity is an important factor when designing a building, as it will reflect the history behind it and determine its place or sense of belonging within the local area. Even if the entire design isn't based on the historical influences around the building, architects often choose to incorporate certain historically-influenced elements in a new build in order to tie it into its surroundings and make it feel more authentic.
Materials
The choice of materials for any building design can have a big influence on the inspiration process, as it will affect the type of construction, the cost of the project, and the aesthetics of the finished product. Many people are choosing to incorporate eco-friendly materials such as bamboo, recycled wood, and glass into their house designs.
In many cases, architects will already have a design in mind when they take on a project, which often includes knowing roughly what types of materials they want to use. This is particularly true if a client has a specific request, such as the incorporation of glass throughout the design. The architect will not only take this on board but also try to understand the reasoning behind this choice - for instance, more light, an open-plan feel, or to enhance the view. This can help them use this one client request to determine the general aims of the project, from which they can form a more detailed design plan.
The client's lifestyle and preferences
Individual lifestyles and preferences can also play a part in architectural choices and might help to determine the functional purpose of the property and each room within it. As mentioned above, architects not only take requests or preferences into consideration but actively try to understand them on a deeper level and make this a core source of inspiration for the design as a whole.
Many people are now leaning towards more sustainable and energy-efficient house styles in an attempt to do their bit for the planet and/or reduce their energy consumption and costs. This kind of client request can significantly affect the design of the property, both in terms of the building itself and its interior design.
To enlist another example of how a client's lifestyle can inspire designs, if an architect was designing a home for someone who is very family-oriented and spends a lot of time with relatives, they might reflect this openness in their design by focusing on creating large communal spaces for all the family to enjoy,
Similarly, if the client has specific requests - such as an open plan layout, a quaint cottage style, or lots of glass - these can be used as a starting point in terms of inspiration and the rest of the design can be formulated around these features.
The work of other architects
The world is full of incredible architects and their work, each with their own background and style. This makes for a very diverse field and provides endless inspiration to others within the industry. Whether they do so in the form of magazines, conferences, blogs, or even travelling to see buildings up close, many architects take their inspiration from the work of other architects.
As with any other profession, many architects also network within their industry and mingle in the same social circles, and so on. This means that they are often able to share ideas with one another and provide advice or suggestions.
The local area
Similarly to using an area's history as a source of inspiration, architects are greatly influenced by the area surrounding the property they are designing. This might include things like culture, weather, lifestyles, and even road layouts.
Many local authorities have specific rules about what kinds of structures are deemed appropriate for any given setting and take measures to ensure harmony between their local buildings. Architects, therefore, take inspiration from both the urban and natural environment around their building. They consider the form, scale, materials, and overall composition of existing structures to come up with a new design that fits into place perfectly and yet still has originality. Being able to balance personality and uniqueness with harmony and authenticity is a crucial part of an architect's work.
There is another approach within architecture that takes a more daring stance. While the above approach focuses on making a new building blend into its local environment, this alternative approach does the opposite - it aims to create something that is in complete contrast to the local environment. This approach is not implemented often, but there are occasions where radically different, new, and groundbreaking building design is the best option.
Arts and culture
Like any other creative profession, architects can take their inspiration from any form of art or culture. One example of this might be video games, as the animation and graphics in modern video games is becoming increasingly complex and realistic. Whether an architect plays a city-based game or one with a rural setting, it is possible that it will feature buildings with intricate design details they may not yet have considered. These games aim to immerse players into this fictional world and open up possibilities that may have seemed difficult or even impossible to imagine before.
Additionally, many games allow players to exist in a world with fewer rules and regulations on seemingly mundane or practical things - for instance, the rules stipulated by planning authorities. This allows for things that might not be practically possible in the real world to become possible, meaning that there's potential for designs you wouldn't normally see to be brought to life. While they may not be able to recreate these designs exactly, these kinds of influences encourage architects to think outside the box and push the boundaries of what's possible.
A similar logic applies to reading books or watching films. These art forms enable you to see or imagine buildings you might not normally see in everyday life, whether this is Gatsby's luxury mansion, Mr Tumnus' shadowy cottage, or the crooked buildings of Diagon Alley. Authors, in particular, pay special attention to details, guiding their readers into recreating their own vision of what's being described.
From Contemporary House Design Services to Quality Architecture Drawings: Bring Your Vision to Life with Spatial Design Architects
Have you been searching for 'architecture companies near me'? Look no further - Spatial Design Architects are here to help. We are one of the leading contemporary architecture firms in Essex and a RIBA Chartered Practice, so you can rest assured that your project is in good hands. Whether you're looking for a modern house design or a more classic, traditional house style, we're committed to providing high-quality service and achieving maximum client satisfaction every time.
Taking inspiration from our clients' briefs, our company ethos and standards, and our knowledge of design, form, and function, Spatial Design Architects offers a comprehensive and personalised approach to bringing your vision to life. With years of experience in the industry, our team of creative and dedicated architects, graduates, technicians, 3D visualisers, and interior designers is well-equipped to make your dream home a reality.
Ready to get started on the project of a lifetime? Contact us today to discuss your requirements with a member of our expert team.